Prof. Monika Köhler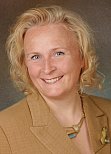 Monika Köhler was born in Heidelberg.
She studied Music Pedagogy (Dipl.), having voice as her major subject with Kammersänger Heinz Hoppe and Inger Paustian at the Academy of Music of Mannheim-Heidelberg and passed her graduate exam as well as her first degree with distinction.
As a dramatic mezzo-soprano she interpreted roles in Richard Wagner's operas, performed in oratorios, and eventually specialized in the German Lied of the romantic period with works from Schubert to Mahler. In numerous Lieder concerts she fascinated the audience. She produced CD recordings and performed in television productions.
In concert tours and as the director of master classes she travelled America, India (New Delhi), and many parts of Europe.
Meanwhile she dedicates herself fully to the education of young singers with regard to the acquisition of a profound singing technique, whereat the expansion of the high vocal range is one of her special fields.
To lead her students towards an expressive and artistically convincing performance on stage, she organizes and oversees opera projects, such as the German première of Aaron Copland's "The Tender Land".
In 1997 she was appointed Professor for Voice at Otto-von-Guericke University of Magdeburg. From 2006 until 2009 she held the post of the Managing Director of the Institute.
Since 2010 she has been teaching voice at Martin-Luther University of Halle-Wittenberg.
---
---